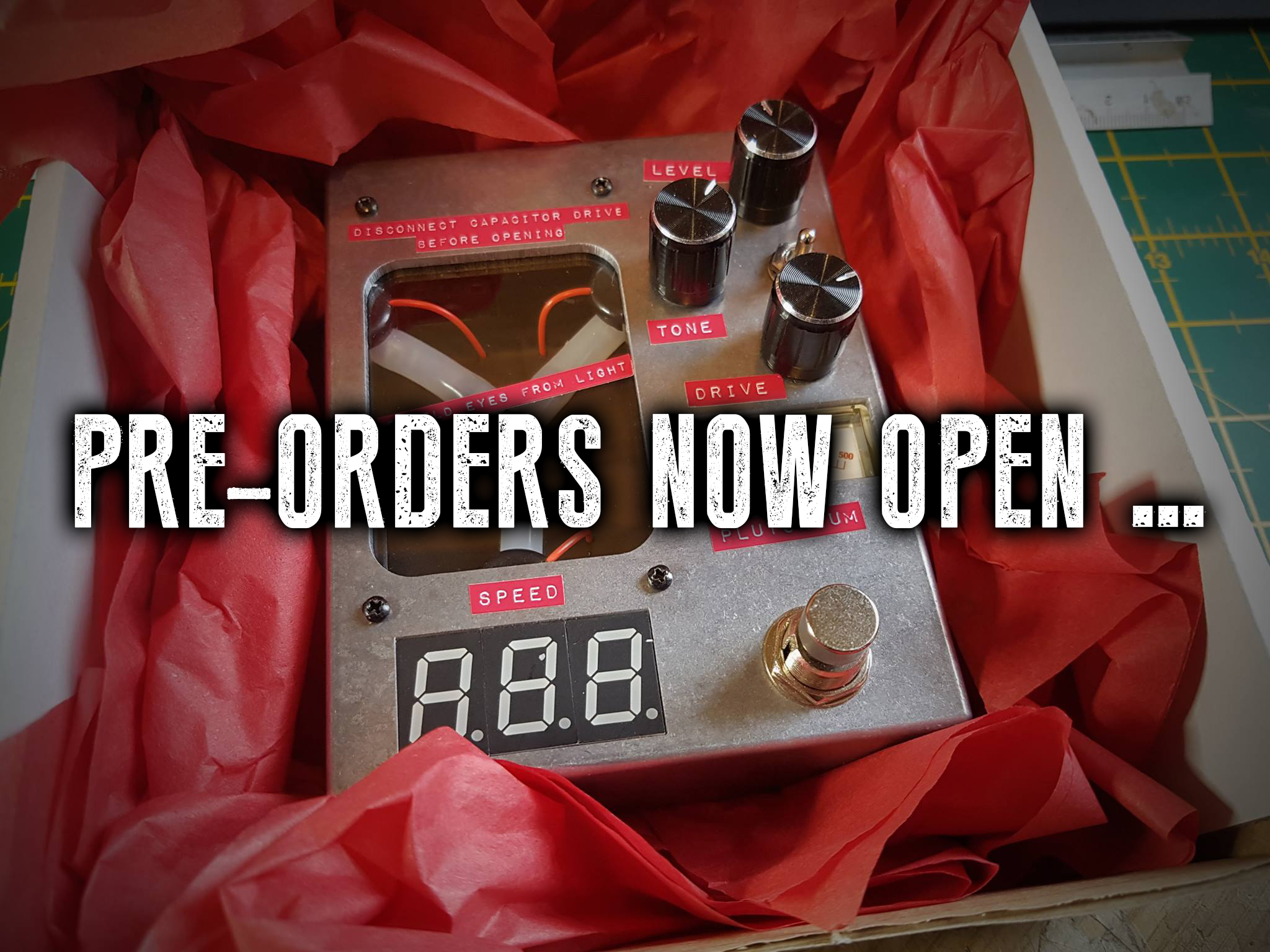 Hi guys – well here it is … the pedal that's made it all go crazy!
I've added this page so you have some info and a link to order one. Please take the time to read everything below before ordering.
About the pedal.
This is the latest three mode version of the pedal. It includes a warm delay, standard reverb and shimmer mode at the flick of a switch.
It's an analog-style delay pedal – the heart of it is a digital chip, but it's filtered to give a very warm and musical delay. It will give you times of up to 1second, although at the longer delay times you might notice slight artefacts on the tails, kinda like an old tape delay breaking up slightly.  Nope it won't do your complicated multi repeat tap-tempo wizardry that you might be used to on big name pedals, but yep it will sound good! Yep, you could probably find a delay with more functions and delay time for less money, I'm well aware of that. But they won't be hand wired in the UK, and they won't look like this one …
So yeah it's a lovely sounding peday, but hey,  who cares, it's got a glowing flux capacitor, that kicks in when you turn the delay on!
It also has a backlit roentgen meter for keeping an eye on the plutonium level (this meter needle reacts to how hard you play and also to the tails of the delay.)
And of course got the MPH meter set at the crucial 88.0mph …
The pedal takes standard 9v centre negative and the current draw is around 70ma. As with all my other pedals, I would recommend the use of an isolated power supply to avoid any noise issues.
The dimensions of the pedal are 120mm deep by 90mm wide.
How your pedal is made …
I'll be as honest as possible now. I don't want people thinking 4114 Effects is some massive company that churns out pedals by the bucket load.
I'm just one guy who builds pedals in a small workshop outside his house. I never expected this little pedal to go viral. I'm always overwhelmed and humbled by how many enquiries I get to build these.
I'm make these pedals one-by-one – assembling PCBs from scratch and cutting / drilling / wiring everything by hand. The enclosures are professionally laser-cut for accuracy to speed up the process, everything else is hand made. I now have a full-time job and a family, so I will be building these pedals in my "spare time". The realistic build time estimate is up to 6 months. If you're OK with this then please click the button below. What I will say is that I always work as many hours as possible over the coming weeks to get the pedals out as quickly as I can.
I usually personalise my pedals with the owners name. If you'd like this option, there is a message field at checkout – please enter the name you would like on the pedal.
Please note that this ordering link is for the standard V2 three-mode delay pedal, with glowing capacitor, active VU meter and speed set to 88.0mph. If you have any special requirements – different circuit inside, ideas for options etc. please email me to discuss before ordering. Thanks!
Ordering info – Important!
Please take note of the two options in the drop down menu when buying the pedal. If you live outside the UK you must use the international orders option to cover the additional shipping and insurance costs.
For my friends / potential customers in the USA / Australia / Canada etc.  – I am aware there will be duty to pay when you receive the pedal. I am informed that for the USA  it should be around 4.7% plus a small handling fee. I will fill out all the relevant forms over here to help speed the pedal through customs, but any import duty that's payable is solely the customers responsibility. All pedals will be sent fully tracked and usually require a signature on delivery.
I will keep a database of who ordered and when, so the pedals will be assembled in a first come, first served basis.
PLEASE NOTE: PLEASE SELECT THE CORRECT SHIPPING OPTION IF ORDERING FROM OUTSIDE THE UK.
Now sold out …Please contact me to be added to the waiting list.